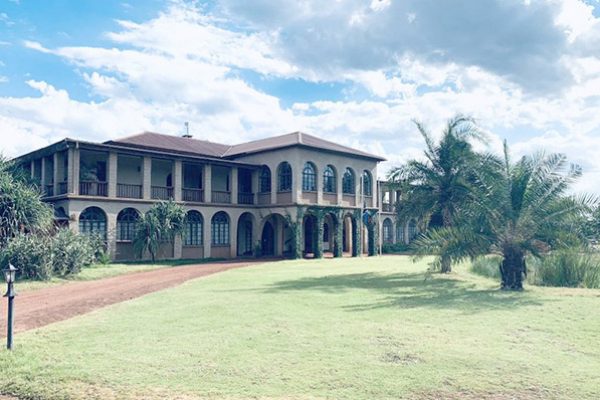 All Year - Best May/September
(Kiligolf - Wildlife Safari - Seacliff Zanzibar)
We will not pretend that the facilities in Africa are at the same level as the western world. However the courses being developed in such signature locations, are now attracting such attention, that it is only a matter of time before they become exceedingly popular and exclusive. Don't miss this opportunity. You will be pleasantly surprised.
This itinerary is co-ordinated with the all year round Central Serengeti. Ask us to help prepare a similar itinerary, timed with the "Southern or Northern Migrations" at different times of the year.
Our Program (10 Days/ 9 Nights )

DAY 1
Arrival at Kilimanjaro Airport (pm) Collection by KKT and transport to overnight accommodation at Kilivillas Golf Resort for pre-tour briefing.
DAY 2
We awake to a view of Mt. Kilimanjaro and the presence of traditional African grazing animals. (No predators )After breakfast, we take the opportunity to explore our surroundings and the course with our first round of golf. We complete the day after lunch with an afternoon excursion tothe nearby Cultural Centre in Arusha Town as well as the Masaai Market and Tanzanite Jewelry Centre.
DAY 3
Morning spent with another round at Kiligolf, before an afternoon excursion to the nearby Arusha National Park. We enjoy the game drive and the flora and fauna of the foothills of Mt. Meru and the Momella Lakes before returning to Kilivillas to overnight.
DAY 4
Morning drive to and departure from Arusha Airport for flight to Seronera (Central Serengeti) After transport to lodge, we enjoy a late lunch before afternoon game drive in the Seronera area before returning for dinner and overnight.
DAY 5
Morning departure from Seronera, we proceed by means of a game drive in the direction of the Ngorongoro Conservation Area and proceed down into the world heritage Ngorongoro Crater, with its picturesque environment and high density of animals and birds. We exit late in the afternoon and proceed to Karatu, outside the conservation area to overnight.
DAY 6
Morning drive from Karatu to Arusha Airport (golf clubs forwarded by Kiligolf) for afternoon flight to Zanzibar. You will be met by the KKT representative and transported to Seacliff Golf Resort and overnight.
DAY 7
In the morning, we awake to the sight of the sparkling Indian Ocean and an opportunity to put our seaside designer golf course to the test. Spend the rest of the day chilling out with beach side resort activities.
DAY 8
After an early morning round of golf we take a dhow trip to the marine Conservation Area of Mdemba Island. Spend the rest of the day, snorkeling, swimming and relaxing in the crystal clear waters of the sand cay. We return to Seacliff as the sun sets, in time for dinner.
DAY 9
We contrast the last few day's activities with a step back in time through a guided cultural tour of the Stonetown and the historic sights of the island. For the avid golfer, the option of another round is also a viable option.
DAY 10
Morningspent in Seacliff resort before afternoon departure to Zanzibar International Airport for onwards connecting flight.
Indicative price is for group of 6 persons (double) with resort (gold standard)accommodation.
For additional comfort a total of 4 persons per vehicle has been considered for safaris.
Included – Green fees for golf, full board including lunch boxes in the field, game drives, internal flights (Inc transport of golf clubs), airport transport connections and entrance fees for national parks, all as indicated within the itinerary. External flights, health/travel insurance, immigration expenses ect, covid testing and vaccinations, all personal items (eg. golf buggies), all beverages and staff gratuities are outside the scope of the itinerary.
HOW TO MAKE PAYMENT
Payment can be made by direct transfer or by credit card through our bank, National Microfinance Bank (NMB) Arusha in accordance with the preference of individual clients and the final invoice at the time of completing the reservation.
Booking
Please ensure that you have read and agreed with the final quote and itinerary before booking your tour. Check group size, accommodations lodges, travel dates, activities, inclusions and exclusions before making a decision. We reserve the right to book the lodges upon availability and alter activities and itineraries in the event of circumstances beyond our control. We will do our best to replace any particular service with something of equal quality and interest in such cases.
Payment
In order to secure your booking a 30% deposit of the total cost is required except when your booking date is less than four weeks prior to the tour start date in which case 100% of your payment is required. Once your down payment is applied, we will email you an invoice to confirm your booking. The remaining balance is required four weeks prior to the tour start date.
Cancellation Policy
Should you wish to cancel your tour please inform us immediately by forwarding an email to info@karibukaratutanzania.com The date of your cancellation will be deemed as the date when written notice is received by KKT. We have a scale of cancellation charges based on the decreasing likelihood of a replacement booking being made. It is as follows: for cancellations made prior to 70 days of departure, 90% of all payments will be refunded; for cancellations made between 69 to 40 days of departure, 50% of any payment will be refunded; for cancellations made 39 days or less before the tour start date, no refund will be provided. Purchase Travelers Insurance if you are concerned about this possibility. Once the tour has started, no refunds will be given for unused service (see force majeure below).
Force Majeure
In no event shall KKT or any provider of services on its behalf be responsible or liable for any failure or delay in the performance of its obligations hereunder arising out of or caused by, directly or indirectly, forces beyond its control. These include, without limitation: disease; weather conditions; park closures; mechanical problems with transport; terrorist activities or riots; fire; flood; natural catastrophes; loss or malfunctions of utilities, communications or computers (including internet services); or any similar results. It will be understood that KKT shall use reasonable efforts to resume performance as soon as practicable under the circumstances. Any delay in or failure of performance must not be considered a breach of agreement and will be excused to the extent caused by any occurrence beyond the reasonable control of the company.